It has been weird going all Halloween day and not seeing anything having to do with Halloween. I admit, it has been nice being able to walk into almost every store and not be bombarded with Vampires eclipsing Christmas trees that will soon be in full view. I have seen trick or treat chocolates and a black cat in one store window, but largely I feel a little let down, since Halloween is not so much a holiday over here, almost like Linus (at least I think it was Linus) when the Great Pumpkin never came in that Charlie Brown episode.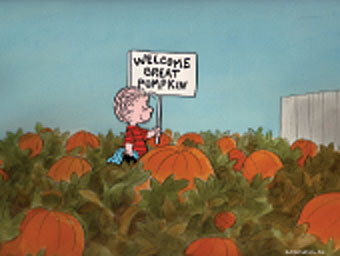 I find this feeling sort of strange since I never really do anything for Halloween back home, save a showing of my classic black and white horror film collection while stuffing my face with Peep WMDs (wads of marshmallow desserts). Luckily I have my collection of old radio shows, so I may treat myself to the classic Mercury Theater production of Dracula with Orson Welles. I guess I could also console myself by burning some Catholics at Guy Fawkes day next weekend since I will be in Canterbury, that's more fun than egging houses anyway.
Haha...just kidding. Trick or treat!