Brookings, South Dakota, is home to South Dakota State University. Their mascot is the Jackrabbits. Say what you want, but its a great mascot in terms of originality.
SDSU just recently moved up to Division I from Division II. Before the move up, apparently the Jackrabbit logo (seen to the left) with its affinity to Bugs Bunny was not apparently mean enough looking for Division I.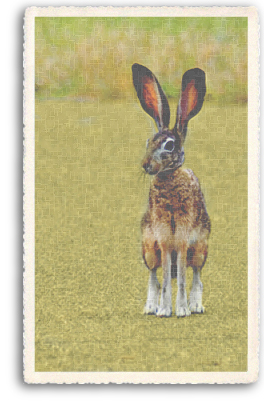 Needing something meaner looking (and to avoid copyright infringement to Time Warner), the SDSU folks hired some big design firm in New York to come up with a Jackrabbit. Apparently, no one from the firm bothered to go out to the plains or google search what a real Jackrabbit looked like, and so all the designs they came up with just looked like a bunny.
SDSU finally hired a local guy to come up with the following logo seen below. It was meaner looking, which makes sense if you have ever seen a real jackrabbit. Its bigger than a raccoon. It is like a big hare on steroids.
I bring this up because the SDSU Jackrabbits women's basketball team won the Summitt League title and ended the seasons with the 2nd best record in the NCAA and a top 25 ranking. Needless to say, Brookings is abuzz with basketball fever, as well they should be, as this is the first year of NCAA Div. I eligibility. They are apparently going to the big dance as a No. 7 seed.
So, beings a few blocks from SDSU, I say Go Jacks!